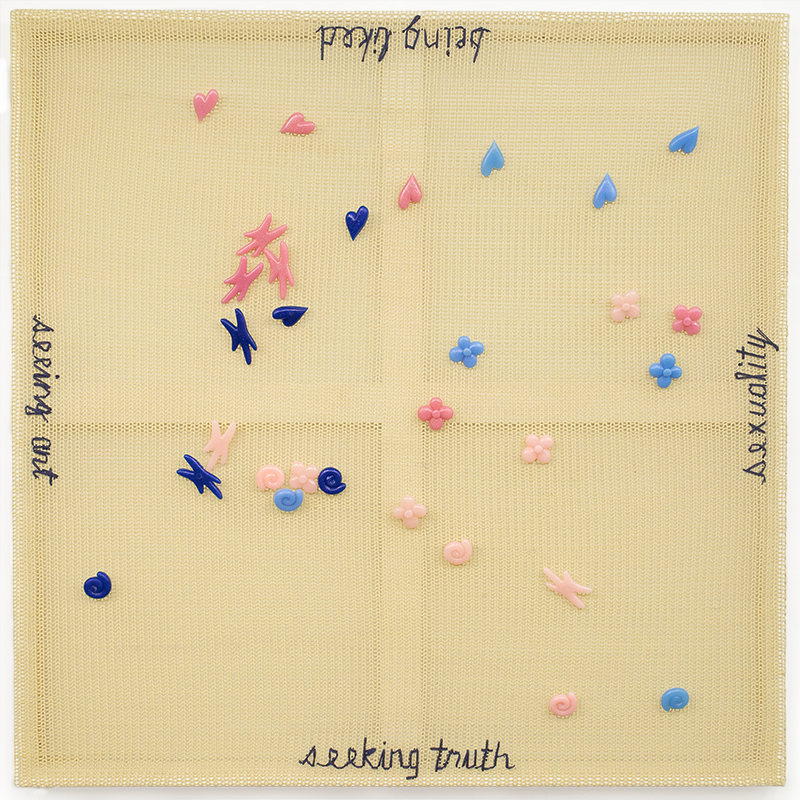 Seeing art, Seeking truth, Sexuality, Being liked, 2021
Cast resin and yarn on knit fabric on wood, 38 x 38 in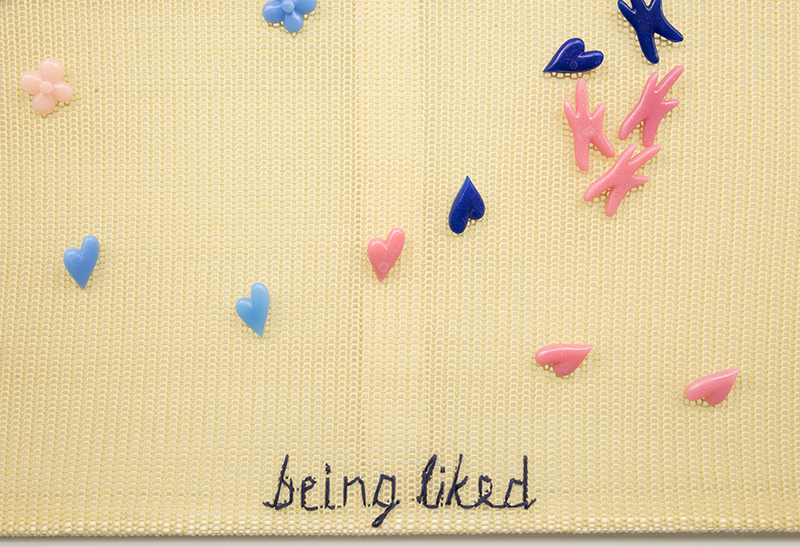 Seeing art, Seeking truth, Sexuality, Being liked, 2021
Cast resin and yarn on knit fabric on wood, 38 x 38 in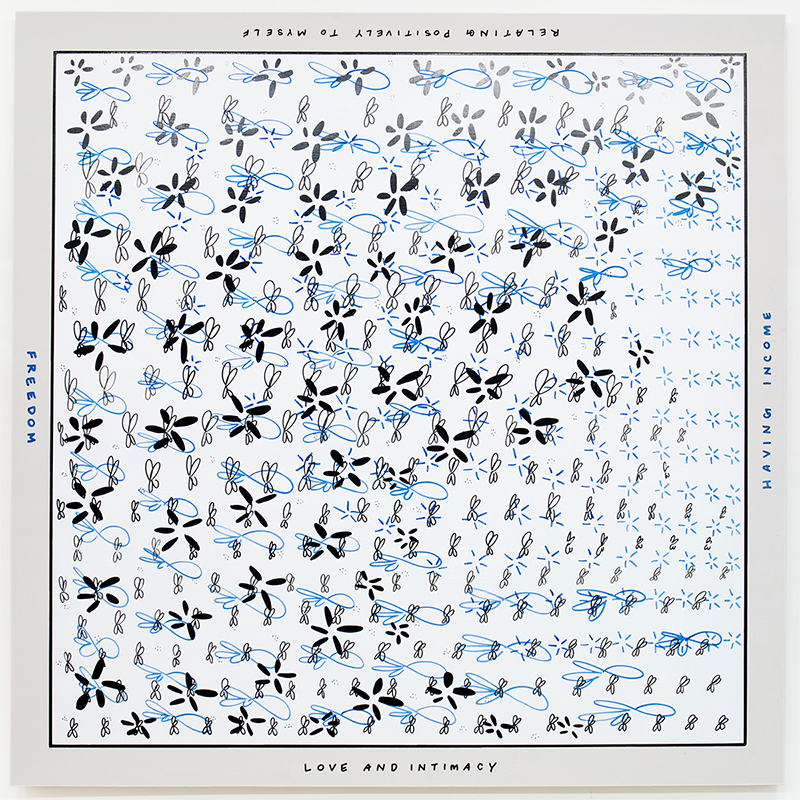 Relating positively to myself, Freedom, Love and intimacy, Having income, 2020
Marker and acrylic on custom ground on aluminum composite panel, 38 x 38 in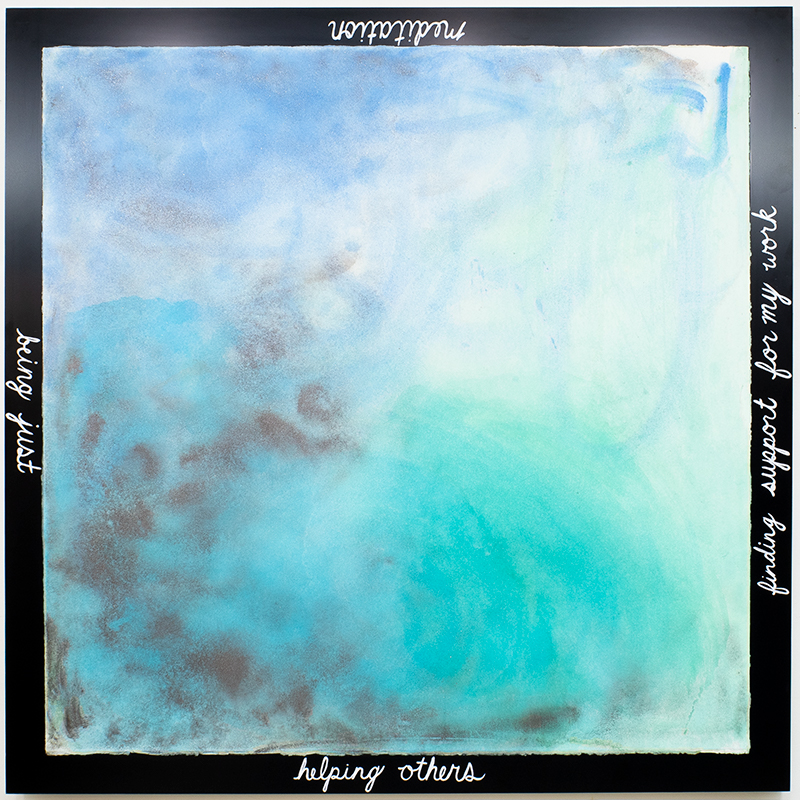 Helping others, Finding support for my work, Meditation, Being just, 2020
Watercolor on hot press paper and enamel on aluminum composite panel, 38 x 38 in
Helping others, Finding support for my work, Meditation, Being just (detail), 2020
Watercolor on hot press paper and enamel on aluminum composite panel, 38 x 38 in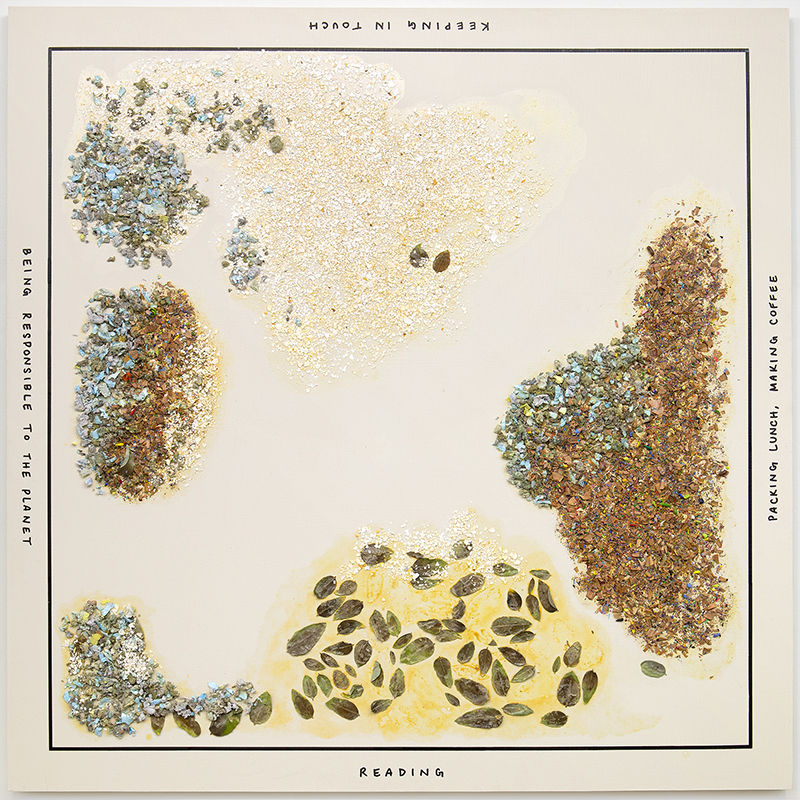 Being responsible to the planet, Reading, Packing lunch and making coffee, Keeping in touch, 2020
Crushed egg shell, colored pencil shavings, paper pulp, styrofoam, leaves, egg yolk and marker on custom ground on aluminum composite panel, 38 x 38 in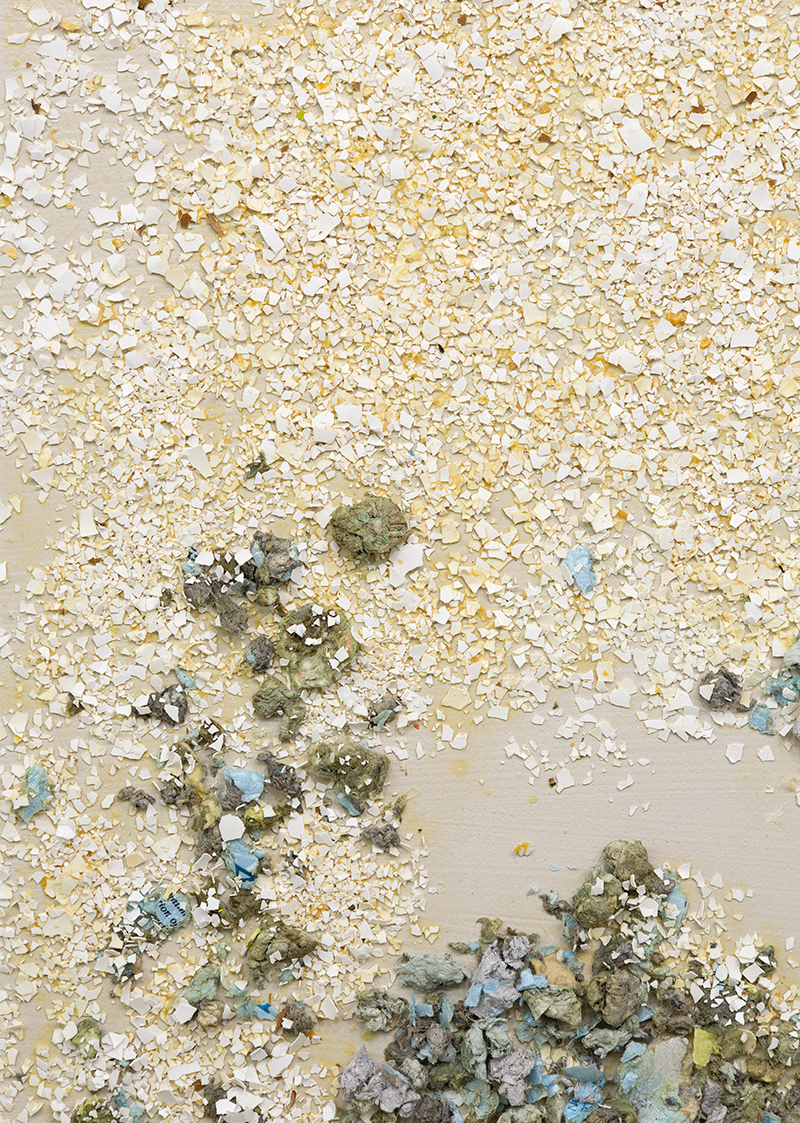 Being responsible to the planet, Reading, Packing lunch and making coffee, Keeping in touch (detail), 2020
Crushed egg shell, colored pencil shavings, paper pulp, styrofoam, leaves, egg yolk and marker on custom ground on aluminum composite panel, 38 x 38 in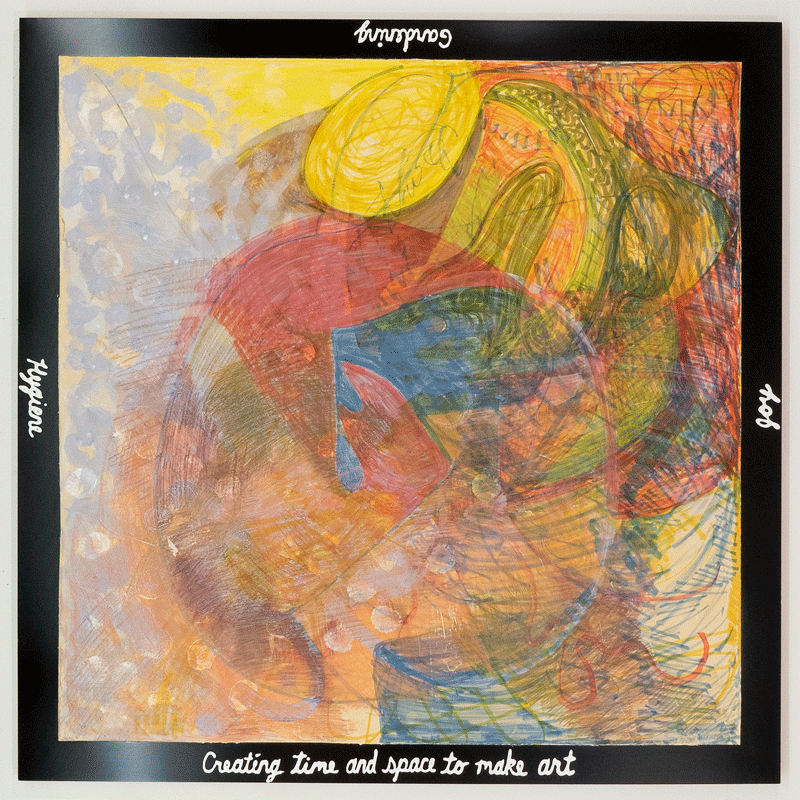 Creating time and space to make art, Joy, Gardening, Hygiene, 2019
Marker, crayon, colored pencil, and acrylic on absorbent ground on canvas with enamel on aluminum composite panel, 38 x 38 in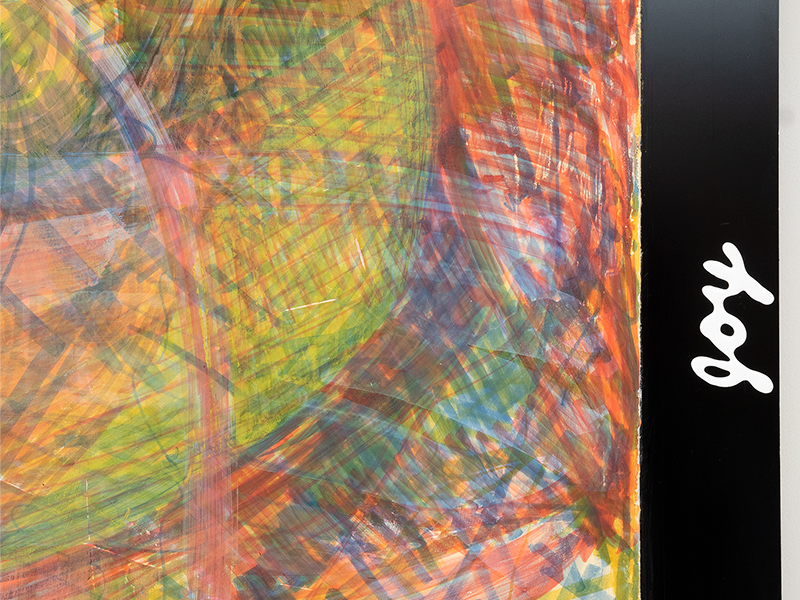 Creating time and space to make art, Joy, Gardening, Hygiene (detail), 2019
Marker, crayon, colored pencil, and acrylic on absorbent ground on canvas with enamel on aluminum composite panel, 38 x 38 in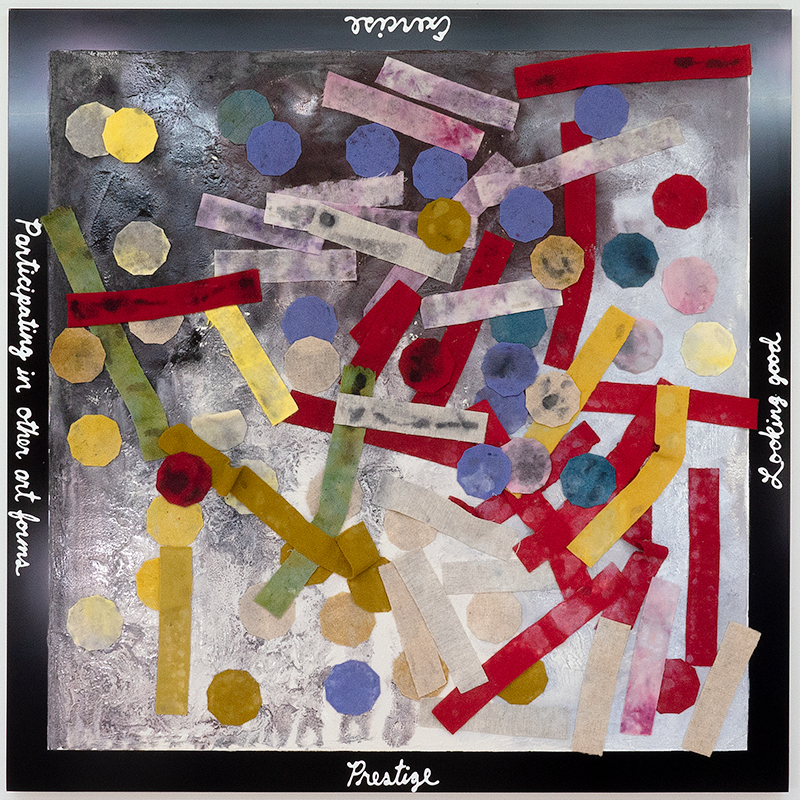 Prestige, Looking good, Exercise, Participating in other art forms, 2019
Dyed wool, oil, enamel paint on absorbent ground on aluminum composite panel, 38 x 38 in
Prestige, Looking good, Exercise, Participating in other art forms (detail), 2019
Dyed wool, oil, enamel paint on absorbent ground on aluminum composite panel, 38 x 38 in
In-progress series, titled In a Good Year. I ascribe the edges of each painting or drawing one of the activities I strive to make time for--"relaxation, "friends", "time alone", and "intellectual stimulation" for example. Like the painting's stretchers, each phrase is a vector point that tethers an activity tasked with being meaningful. The center is a field in which the independent choreography of each pastime comingles, remaining discrete at times and at others collaborating to create new form. I create the graphic by a combination of intuitive logic, material process, and computer code I write in Processing (a "software sketchbook").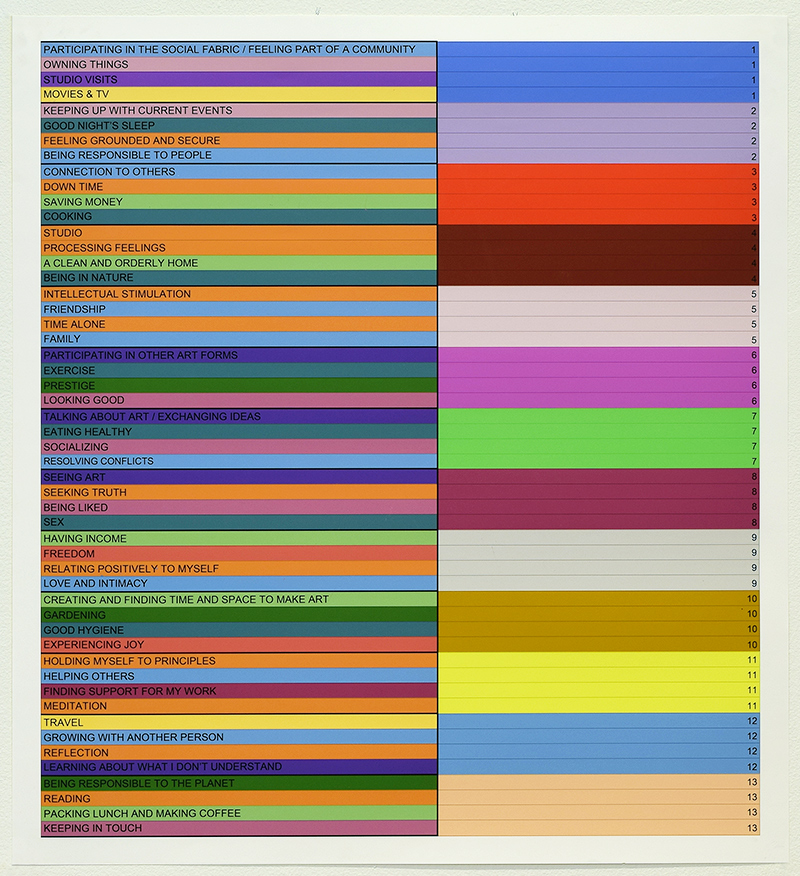 Untitled (In a Good Year Drawing), 2017, Inkjet print on matte paper, 25 x 23 in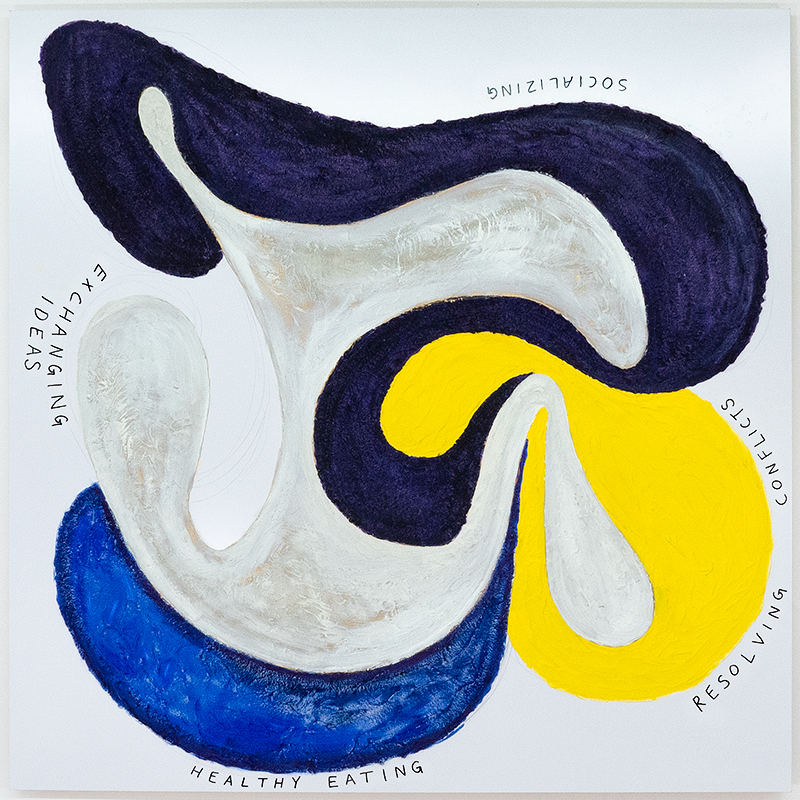 Socializing, Exchanging ideas, Healthy eating, Resolving Conflicts, 2019
Oil on custom grounds and marker on aluminum composite panel, 38 x 38"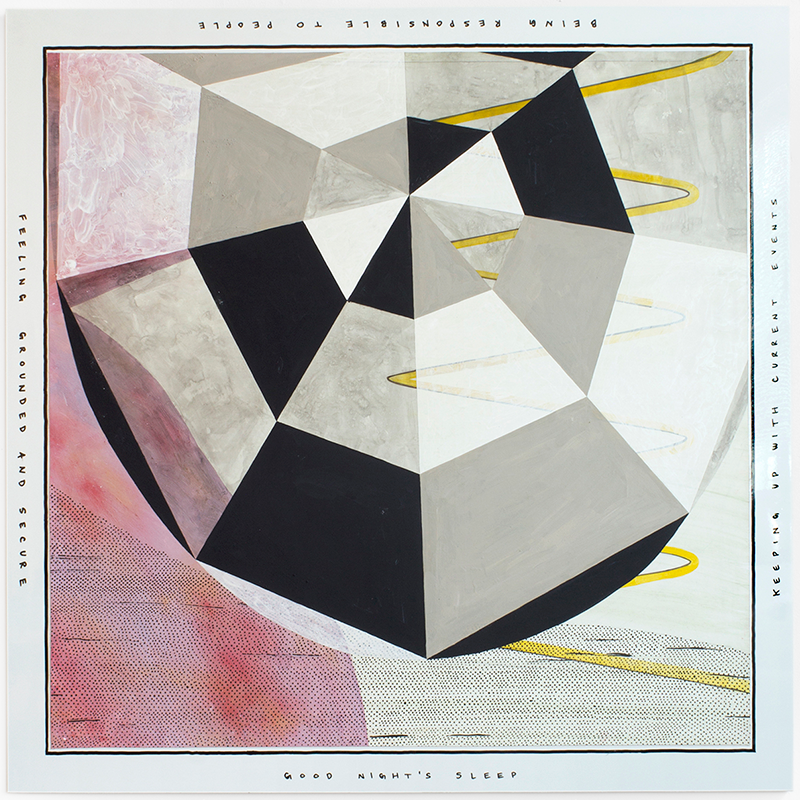 Being responsible to people, Keeping up with current events, Good night's sleep, Feeling grounded and secure, 2019
Pigment in cellulose binder, ink, and marker on canvas on aluminum composite panel, 38 x 38"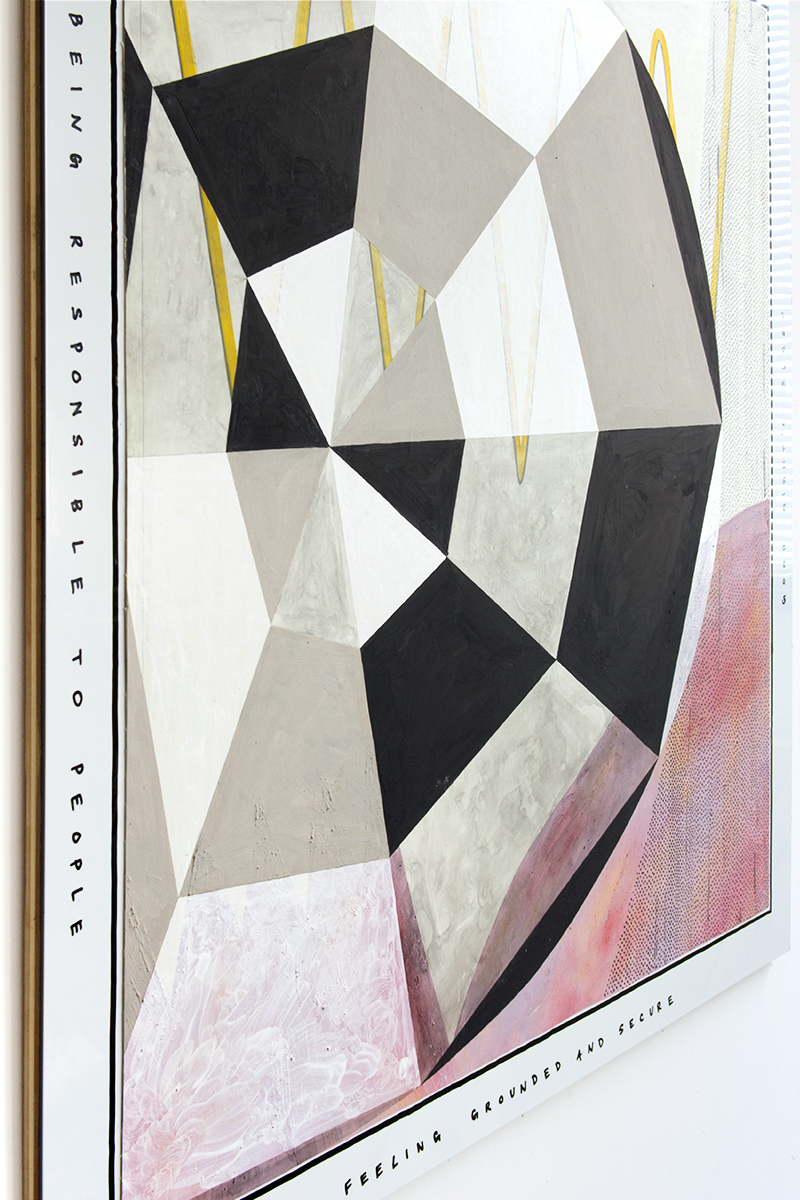 Being responsible to people, Keeping up with current events, Good night's sleep, Feeling grounded and secure (detail), 2018
Pigment, distemper, ink, and marker on canvas on Dibond panel with marker, 38 x 38 in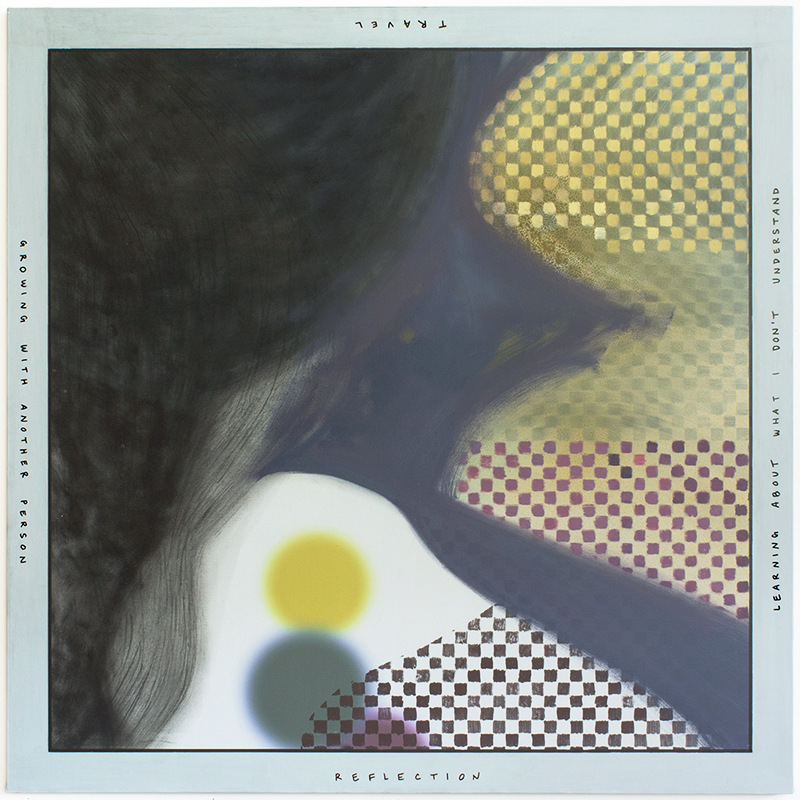 Growing with another person, Reflection, Learning about what I don't understand, Travel, 2018
Oil, acrylic, charcoal, distemper, and marker on inkjet print on canvas on dibond panel, 38 x 38 in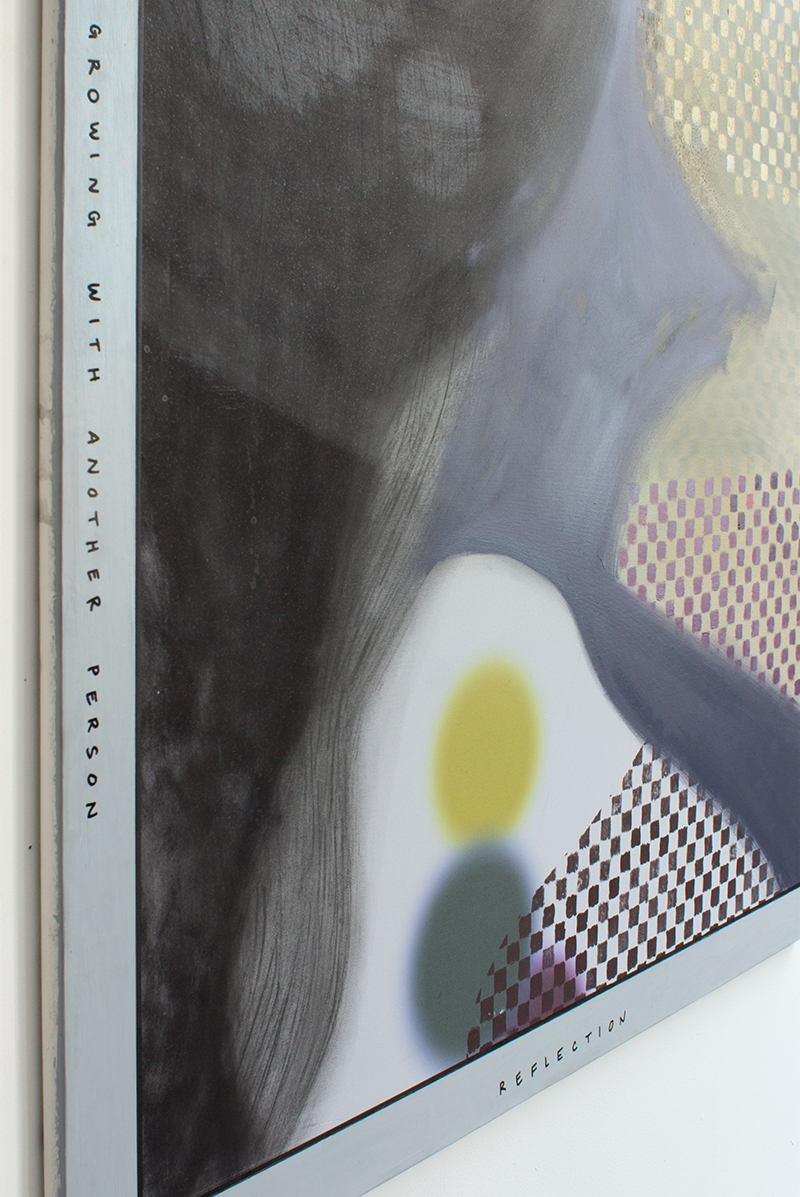 Growing with another person, Reflection, Learning about what I don't understand (detail), 2018
Oil, acrylic, charcoal, distemper, and marker on inkjet print on canvas on dibond panel, 38 x 38 in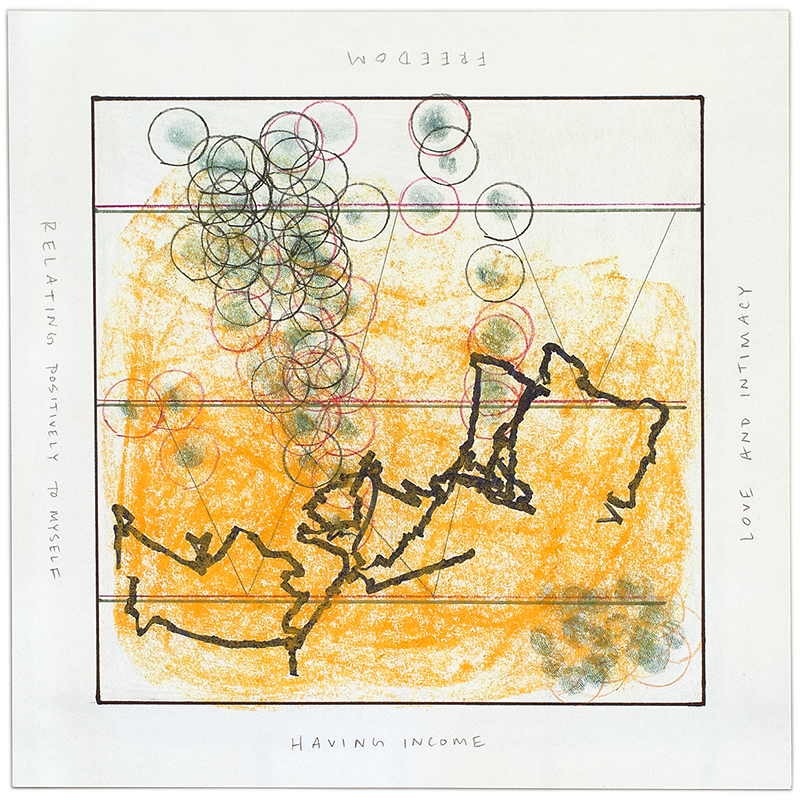 Love and intimacy, Freedom, Relating positively to myself, Having income, 2018, Colored pencil, graphite, and marker on paper, 9 x 9 in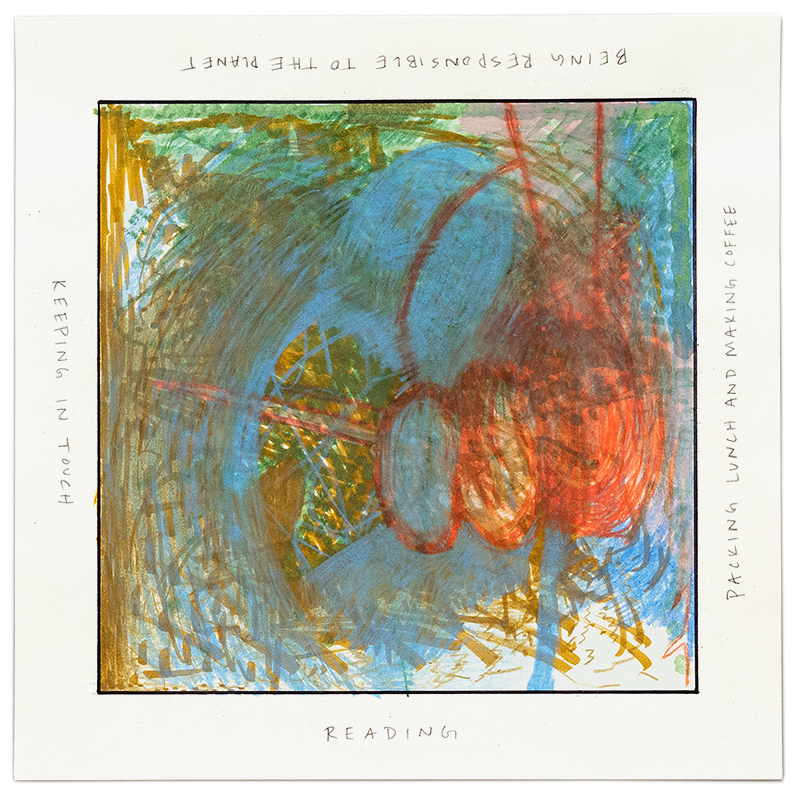 Being responsible to the planet, Keeping in touch, Reading, Packing lunch and making coffee, 2019, Colored pencil, graphite, crayon and marker on paper, 9 x 9 in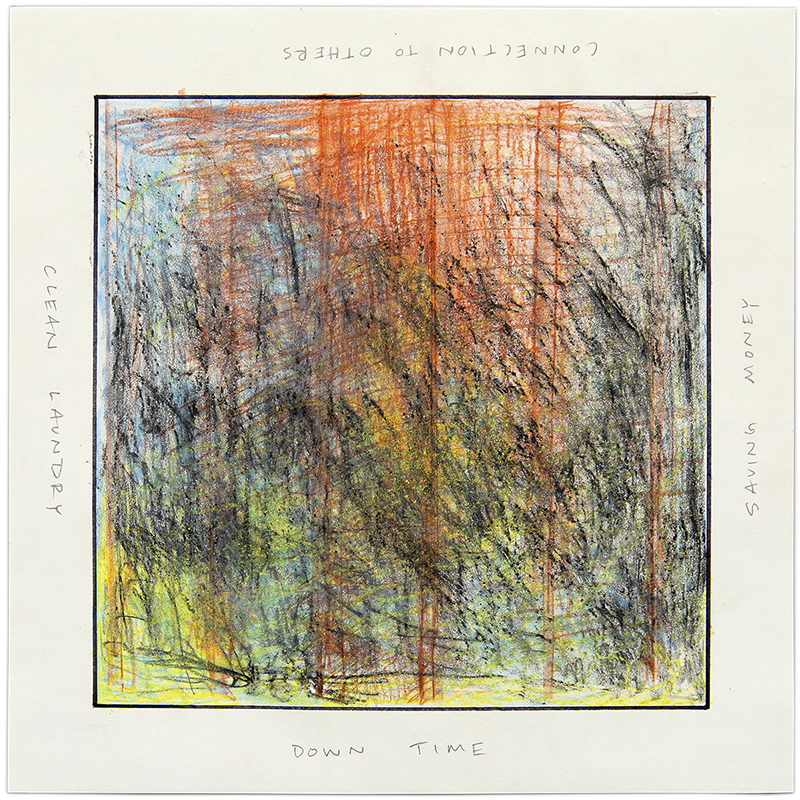 Connection to others, Clean laundry, Down time, Saving money, 2020
Colored pencil, crayon, marker, and graphite on paper, 9 x 9 in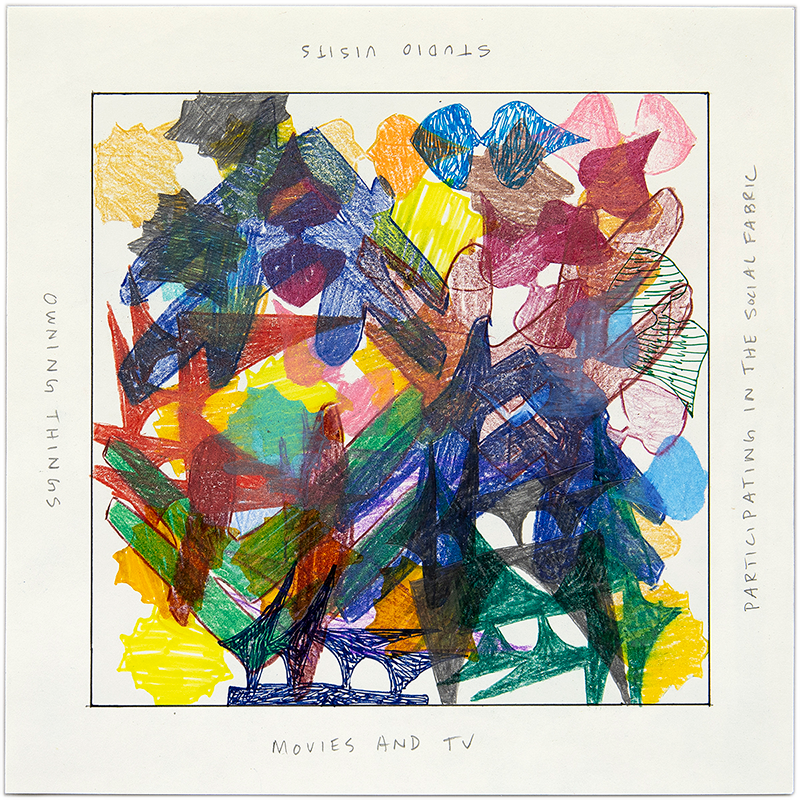 Participating in the social fabric, Studio visits, Owning things, Movies and TV, 2020
Colored pencil, crayon, marker, and graphite on paper, 9 x 9 in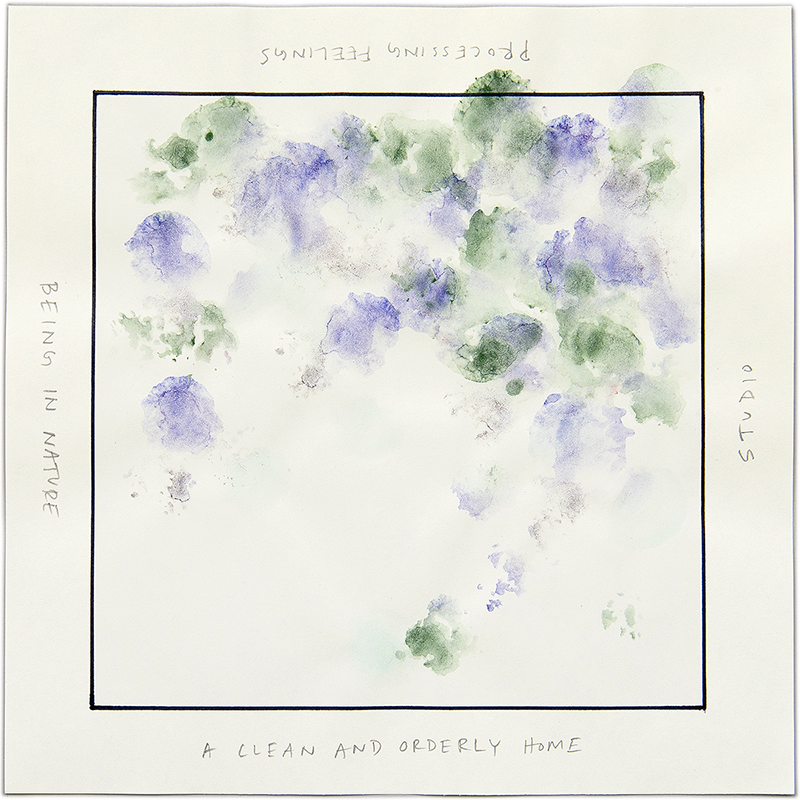 Processing feelings, Being in nature, A clean and orderly home, Studio, 2020
Watercolor, marker and graphite on paper, 9 x 9 in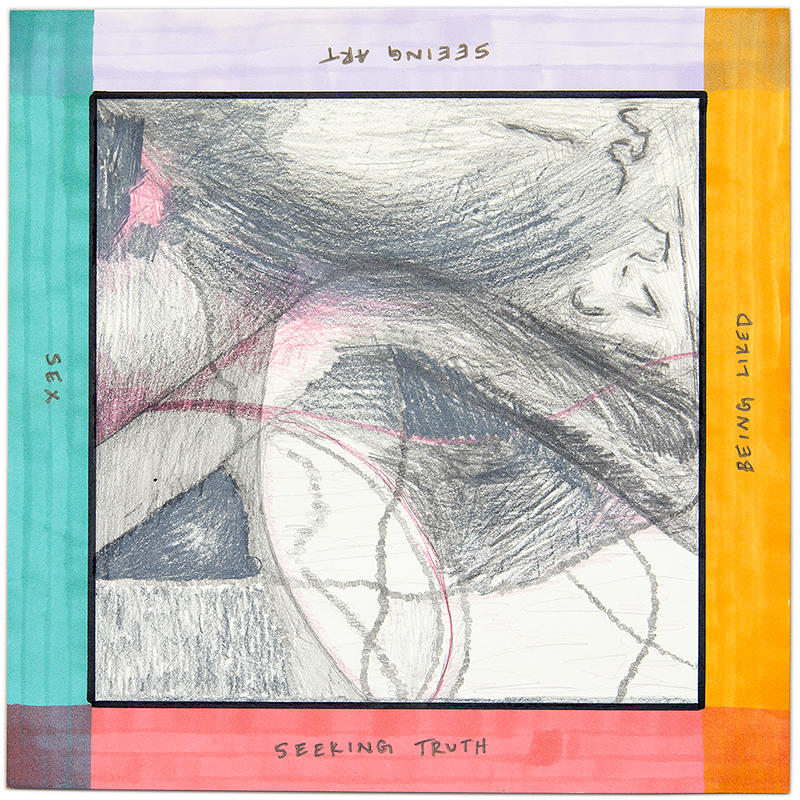 Seeking truth, Being liked, Seeing art, Sex , 2020
Marker, pen, and graphite on paper, 9 x 9 in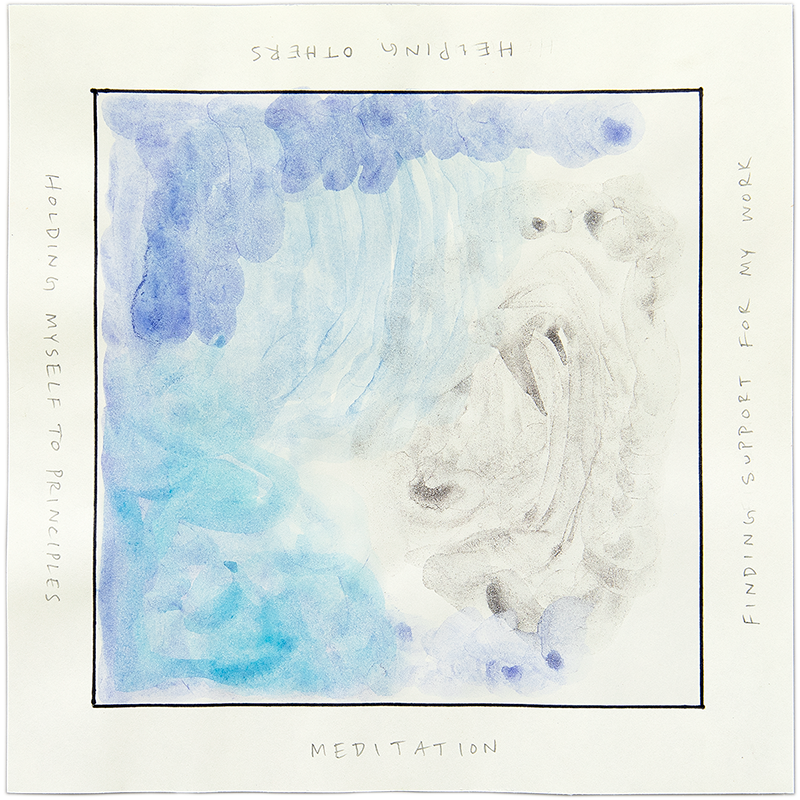 Helping others, Finding support for my work, Meditation, Being just (#2), 2020
Colored pencil, crayon, marker, and graphite on paper, 9 x 9 in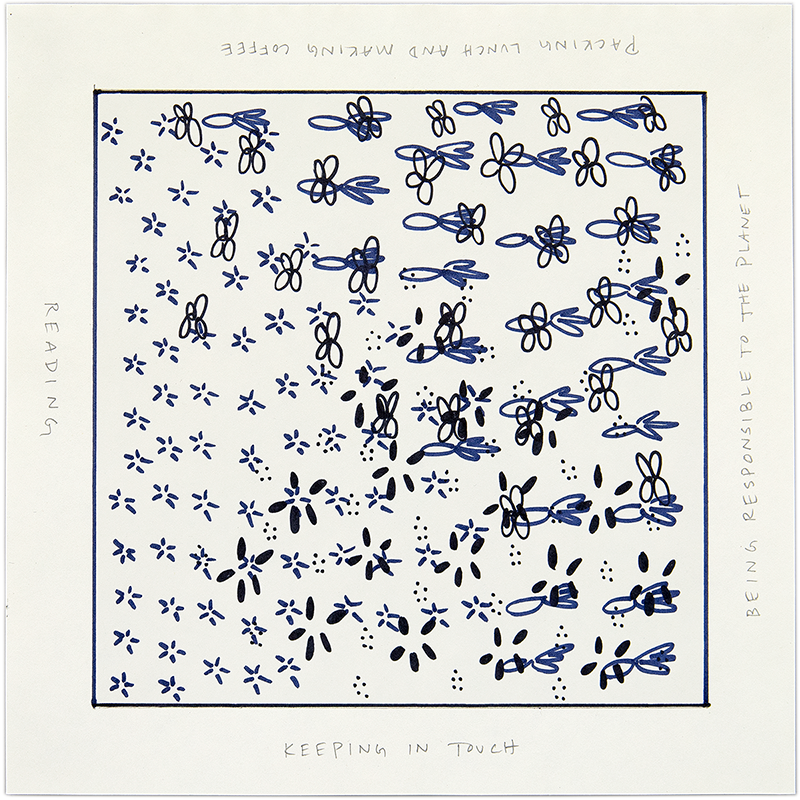 Reading, Keeping in touch, Being responsible to the planet, Packing lunch and making coffee, 2020
Marker and graphite on paper, 9 x 9 in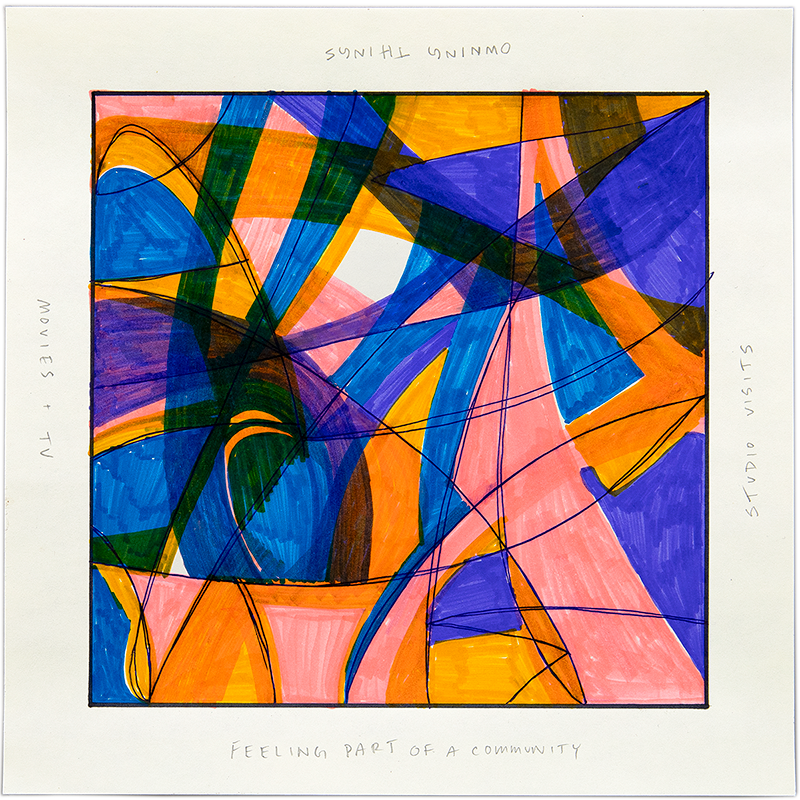 Owning things, Movies + TV, Feeling part of a community, Studio visits, 2020
Marker, pen, and graphite on paper, 9 x 9 in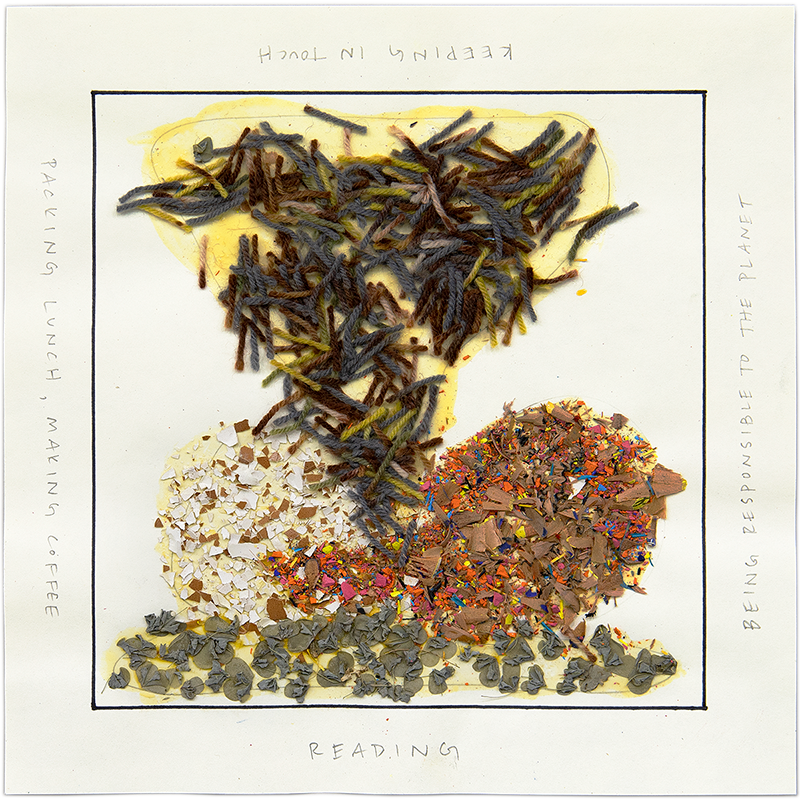 Keeping in touch, Packing lunch/making coffee, Reading, Being responsible to the planet, 2020
Yarn, eggshell, pencil shavings, wood sorrel, egg yolk, marker and graphite on paper, 9 x 9 in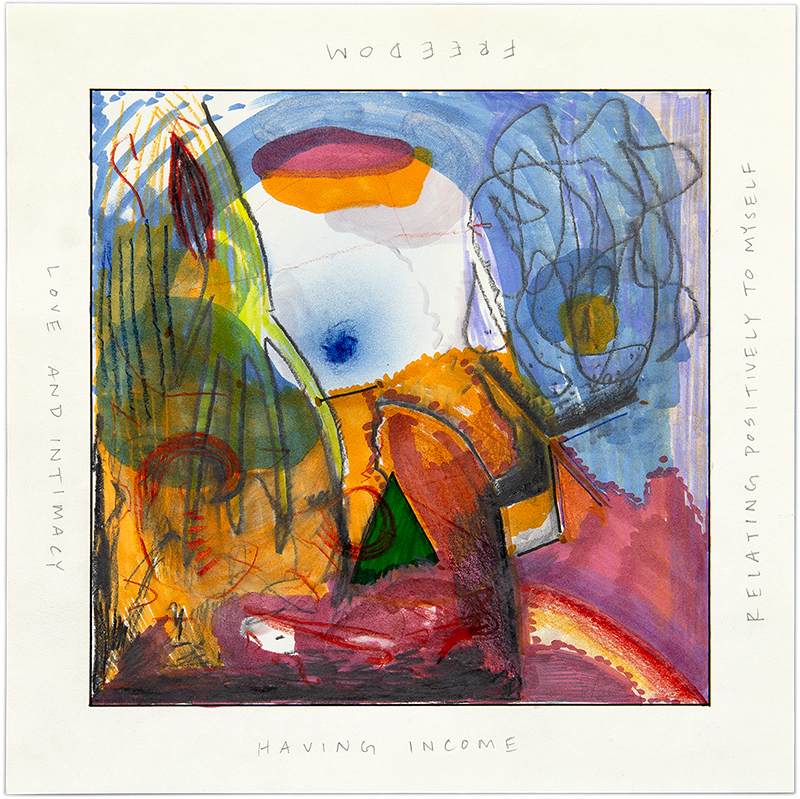 Relating positively to myself, Freedom, Love and intimacy, Having income (#2), 2020
Marker, pastel, crayon, colored pencil, and graphite on paper, 9 x 9 in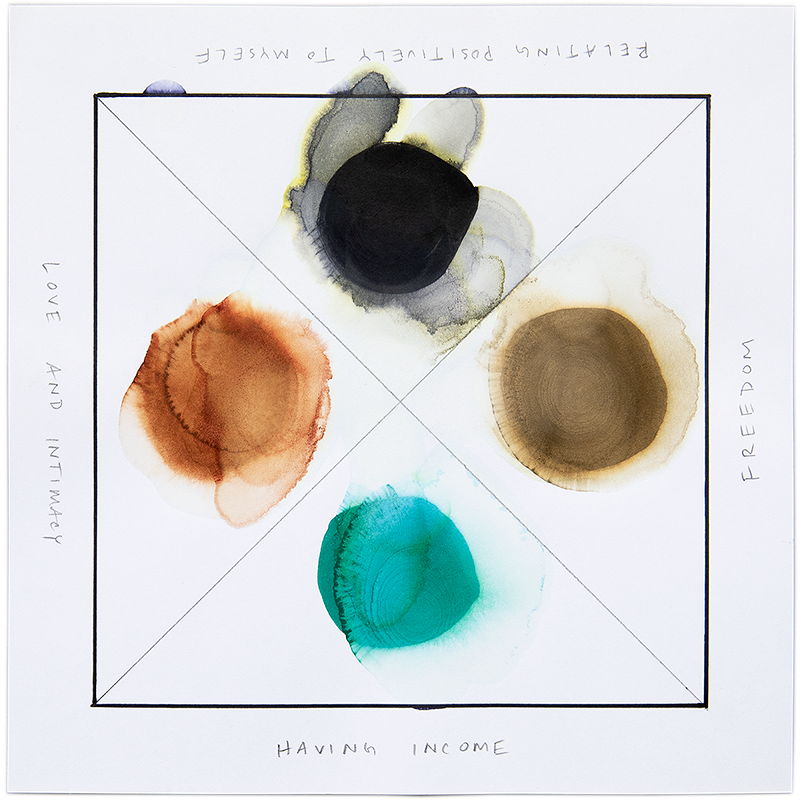 Having income, Freedom, Relating positively to myself, Love and intimacy, 2020
Marker and graphite on paper, 9 x 9 in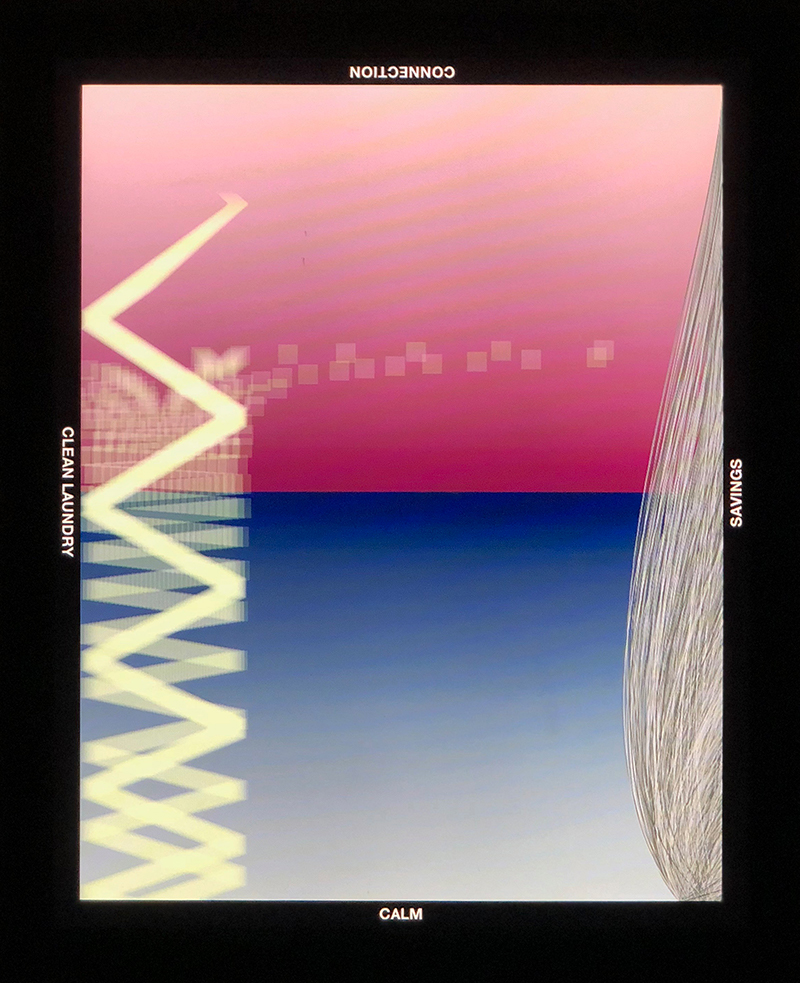 Connection, Savings, Calm, Clean laundry (#3), 2018, Digital animation, Size variable